Current Team
Telders Moot Court Team 2021
---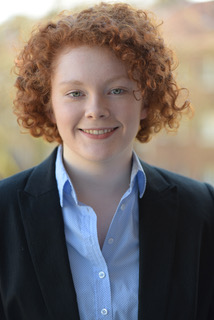 Fiona Lesaar (21) was born in Cologne and graduated from High School in 2017.
In 2014, she decided to join the project "Schüler an der Universität" and began studying law parallel to her school education. Convinced that this was the right path for her, she continued studying law at the University of Cologne after her Abitur. Today Fiona is in her 7th semester. She also participates in the CUSL program with the aim to improve her legal English and gain an understanding of different legal systems.
During internships at various law firms she discovered her passion for advocacy, always aiming to achieve the best possible outcome for her client.
Fiona first took part in a Moot Court competition in an academic summer program at the University of Cambridge. She greatly enjoyed this experience, drafting memorials and pleading before the court. Therefore, she looked forward to taking part in a Moot Court as part of her time studying at the University of Cologne.
Through her voluntary work with the Amnesty International student group Fiona regularly faces disputes and question from various fields of International Law. This, and the increasing number of problems which require international solutions, inspired her to broaden her knowledge in this particular area of law.
She believes that the Moot Court will give her a chance to improve her rhetorical skills and the practical skills essential to working as a lawyer. Fiona looks forward to working with her team members to take on the challenge.
---
Jana Marie Wagner (23) is studying law in her 7th semester and graduated from Städtisches Gymnasium Goch in 2015, where she attended bilingual classes. In order to learn about different ways of life and handle unforeseen situations she decided to live and work in New Zealand for about one year.
This sparked her interest in different cultures and ultimately led to her desire to work in an international environment. For her, Public International Law is one of the most significant branches of law, since it focusses on the relations between nations, which are becoming increasingly important within the course of globalization.
Languages are very fascinating to her, which is why she decided to learn French and Dutch and is now participating in legal courses in several languages.
She is ambitious about improving her rhetorical skills and aspires to become a more confident public speaker. For Jana Marie, the Moot Court offers the opportunity to slip into the role of a lawyer, apply her theoretical knowledge and gather practical experience.
Jana Marie is eagerly looking forward to acquiring in-depth knowledge of Public International Law in a competitive setting and to meeting fellow students as well as practitioners form all over the world.
---
Lena Kolloge (22) is currently in her 9th semester of studying law. As a participant in the German-English LL.B. programme she spent the first two years of her studies at University College London, before continuing at the University of Cologne. The inherently comparative nature of her legal studies in London and Cologne inspired her interest in International Law and its various components. She broadened her knowledge in this field not only by attending lectures on several branches of international law, but also during internships in international organisations and offices as well as law firms in different countries. Lena currently works as a research assistant at the Chair of Public Law, Public International Law and European Law at the University of Cologne.

She considers the Moot Court an excellent opportunity to engage profoundly with specific issues of Public International Law, to improve her rhetoric skills and to meet interesting people from other universities, before starting to prepare for the German state exam.