Manfred Lachs Moot Court Team 2022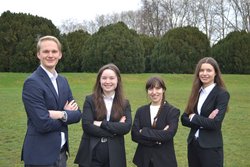 v.l.n.r. Sebastian Schlingmann, Marie-Claire de Bruijn, Katja Grünfeld (Coach), Katharina Prall
---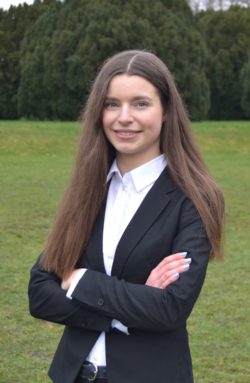 Katharina Prall (26) was born in Cologne and grew up in Bad Münstereifel, where she graduated from St. Michael-Gymnasium in 2014.
She has been studying Law at the University of Cologne since 2015 and soon discovered her interest for International Law, which led her to complete her specialization in Public International Law and European Law. During her specialized studies, she participated in the lecture on Space Law, which instantly fascinated her.
Following this new found passion, Katharina began to work as a research fellow in a law firm in Cologne, which provides legal advice and legal project management services to complex high-technology and infrastructure projects and is specialized inter alia in Air and Space Law.
Before finishing her studies, Katharina wanted to take the opportunity of participating in the Manfred Lachs Moot Court competition to further deepen her knowledge of Public International Law and Space Law, and to train important soft skills.
Katharina is looking forward to working with her team, meeting other students from all over Europe and to finally plead in front of an international panel of judges, all experts in space law.
---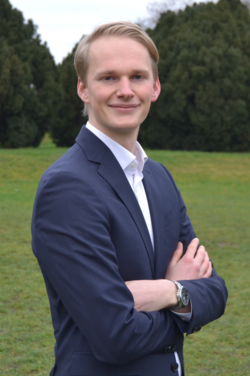 Sebastian Schlingmann (22) was born and raised in Werther Westf., where he graduated from the Ev. Gymnasium Werther in 2018. After his graduation several legal internships fostered his interest in law and the legal system. He is currently studying law in his 7th semester.
Ever since studying abroad in Canada, Sebastian´s fascination for international relations has been growing. Through various lectures in his foundational and major studies he was able to enhance his knowledge of Public International Law.
After contributing to research work at the Institute for Insurance Law, he started to work as a student assistant at a major law firm in Cologne. There, he discovered his passion for becoming acquainted with a specific legal issue and finding the ideal solution. Corresponding to that passion, he was able to gain further practical experiences through his work at the Refugee Law Clinic Cologne.
For Sebastian, the Manfred Lachs Moot Court Competition is a unique opportunity to deepen his knowledge of international law and space law as well as to sharpen his rhetorical skills. He is looking forward to meeting with and competing against other students from all over the world.
---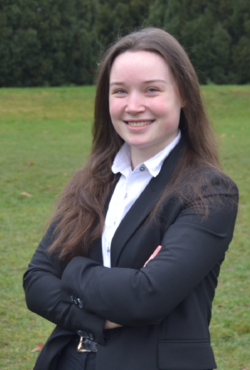 Marie-Claire de Bruijn (23) was born and raised in Trier, where she graduated from a business administration school in 2019. She is currently studying law in her 5th semester at the University of Cologne.
Long before her current studies, it was already her goal to gain knowledge about law as well as research the science of outer space and related topics. Her enthusiasm was further fostered through her work as a student assistant in the legal department of the German Aerospace Centre (DLR), an internship in a legal firm with a focus on space law, and her volunteer work in the World Space Week Association (WSWA). In addition, Marie-Claire participates in the CUSL program in order to improve her legal English and to develop her knowledge of different legal systems.
During her work, Marie-Claire received multiple insights into technology applications within the space sector, which encouraged her to apply her practical knowledge to projects, including her contribution to a legal publication and presentations for ESA meetings. For Marie-Claire, this entanglement of law and practical applications, sparked a deep fascination for space law.
Marie-Claire views the Manfred Lachs Space Law Moot Court competition as a great opportunity to specialize in space law, gain personal experience and bolster her rhetorical and legal writing abilities before preparing for her major studies. Marie-Claire is very eager to encounter people with the same passion as her.
---
Manfred Lachs Moot Court Team 2015
Im Rahmen des Manfred Lachs Space Law Moot Court Competition 2015 wird das Institut für Luft- und Weltraumrecht von Alice Sharif, Jan Steuernagel und Jennifer Zurkoswki (v.l.n.r.) repräsentiert.
Alice Sharif studiert im 6. Semester Rechtswissenschaften an der Universität zu Köln. Sie hat sich während ihres Studiums sehr engagiert. Neben einem absolvierten Auslandssemester in Madrid zählt dazu ihre aktive Teilnahme am Erasmus Student Network, wo sie unter anderem Veranstaltungen für internationale Studenten organisiert. Außerdem ist sie Mitglied der Tilbury House Debating Society und hat schon erfolgreich an zahlreichen internationalen Turnieren teilgenommen, u. a. an der Europäischen Debattiermeisterschaft in Zagreb im August 2014.

Zusätzlich zum regulären Studium absolviert sie das CUSL (Certificate for United States Law)-Programm und hat weiterhin bei der ELSA Legal Client Interviewing Competition teilgenommen, bei der sie zusammen mit ihrer Partnerin das Halbfinale erreichte. Das Interesse am Völkerrecht entdeckte sie im Grundstudium während ihrer Teilnahme am Schwerpunktseminar "Die völkerrechtlichen Aspekte des Nahostkonflikts" am Institut für Friedenssicherungsrecht an der Universität zu Köln.
Zudem spricht sie fünf Sprachen fließend (Dari, Deutsch, Englisch, Spanisch, Französisch), was dazu beiträgt, dass sie später einmal gerne international tätig werden möchte.
----------

Jan Steuernagel studiert Rechtswissenschaften im 3. Semester an der Universität zu Köln. Sein Abitur hat er 2013 am Clara-Schumann-Gymnasium in Bonn gemacht. Nach den Prüfungen absolvierte er ein Praktikum am Amtsgericht Köln, bei dem er die Gelegenheit hatte, nahezu jeden Tag mit einem anderen Richter zu verbringen und so in die meisten Abteilungen einen Einblick zu erhalten. Durch dieses Praktikum wurde sein Interesse an der Rechtswissenschaft entscheidend gestärkt.
Ebenfalls 2013 nahm er, nach Auswahl durch MdB Ulrich Kelber, an Jugend und Parlament in Berlin teil. Im Rahmen dieses Programms übernehmen die Teilnehmer die Rollen der Abgeordneten, um so einmal das gesamte Gesetzgebungsverfahren, inklusive Fraktions- und Ausschussarbeit zu erleben. Diese beiden Erfahrungen und die grundsätzliche Faszination dafür, durch Recht das Zusammenleben einzelner Gesellschaften bzw. verschiedener Nationen auf der ganzen Welt zu regeln, brachte ihn zum Jurastudium.
Im August und September 2014 absolvierte er ein weiteres Praktikum in einer Kanzlei für gesetzliche Betreuungen. Hierbei prägte ihn vor allem die vertrauensvolle Beziehung zu den Betreuten.
Parallel zum Studium der Rechtswissenschaften bereitet Jan sich für ein Certificate in United States Law vor, welches insbesondere den Erwerb englischer Rechtsterminologie ermöglicht.
Das Interesse am Space Law Moot Court ergibt sich einerseits aus seiner Faszination für die Regelung eines Raumes ohne Souverän und andererseits aus seinem Interesse praktische Erfahrungen aus Anwaltssicht in einem solch spannenden und speziellen Rechtsgebiet zu erlangen.
----------
Jennifer Zurkowski studiert im 5. Semester Rechtswissenschaften an der Universität zu Köln.
Neben dem regulären Studium nimmt Jennifer am CUSL (Certificate in United States Law)-Programm teil. Ihre Zwischenprüfung bestand sie bereits im dritten Semester.
Im Wintersemester 2013/14 erreichte sie mit ihrer Partnerin den regionalen zweiten Platz bei der ELSA Client Interviewing Competition. Im darauffolgenden Sommersemester 2014 repräsentierte sie mit ihrem Partner bei der ELSA Negotiation Competition ELSA Köln im nationalen Finale in Frankfurt, bei dem sie den zweiten Platz belegten.
Zudem zählen ein zehn monatiger High School Aufenthalt in Ohio, USA, und die Teilnahme an der ersten NLU Delhi ­ Herbert Smith Freehills International Negotiation Competition zu ihren internationalen Erfahrungen, die ihr Interesse an den internationalen Zusammenhängen förderten.
Die Entscheidung an der Manfred Lachs Space Law Moot Court Competition teilzunehmen traf sie aufgrund ihres allgemeinen Interesses für Völkerrecht und wegen der Herausforderung des selbständigen, praktischen juristischen Arbeitens.